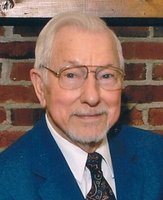 William K. Martin
William K. Martin of Lockport, NY passed away on Sunday October 15, 2017 at home. Born on April 7, 1926 in Batavia, NY, he was the son of Charles and Ciara Engles Martin. Bill served in the U.S. Army from 1944 until 1946 and was awarded the Bronze Star. He was stationed in the Philippines with the 25th Infantry and later in Japan. Bill retired from General Motors and was a member of Harrison G9 and the 25th Infantry Alumni Association. He enjoyed spending time with his sons, watching his beloved Yankees and traveling with his longtime friend, Carole Layer.
Husband of the late Molly Korff Martin, surviving are his sons, Paul Martin and Daniel Martin and his sister, Doris Van Etten.
A Memorial Service will be held on Saturday, November 11, 2017 at 12:00 PM at Hess Road Wesleyan Church, 2514 Hess Road, Appleton, NY. Memorials may be made to Heritage Christian Services, 275 Kenneth Drive, Suite 100, Rochester, NY 14623. Condolences may be offered to the family at www.langefuneralhomeinc.com.