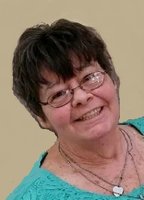 Patricia A. English-Reed
Patricia A. English-Reed of Lockport, NY, passed away on Friday December 8, 2017 in Millard Fillmore Suburban Hospital. Born on July 12, 1950 in Niagara Falls, NY, she was the daughter of Raymond and Margaret Gardner English.
Patricia is survived by her children, Peter Reed and Robin (Carl) Wawrzyniak: grandchildren, Nicholas, Samantha, Dane, Brittany, Briychelle, Carl, Cameron and the late Briana; several great grandchildren; sister, Judy Russell; nieces, Kelly and Kim and dear friend, Beth Huntington.
A Memorial Service will be held on Saturday, December 30, 2017 at 11:00 AM in Solid Rock Assembly of God Church, 8590 Rochester Road, Gasport. Private interment in St. Patrick's Cemetery. Condolences may be offered to the family at www.langefuneralhomeinc.com.