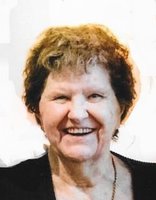 Rosemary Saraf
Rosemary Saraf of Lockport, NY, passed away on February 12, 2018 in The Martin-Linsin Residence, Albion. Born on January 27, 1929 in Lockport, she was the daughter of Burt and Margaret Koneski Szatkowski. She married Sarafino T. Saraf on July 31, 1949. A snowbird for over 40 years, while in Florida she worked bingo and delivered Meals on Wheels. Rosemary was a devoted wife, mother and grandmother.
Predeceased by her husband of 66 years, Sarafino T. Saraf and son, Steven. She is survived by her children, S. Theodore, Jr., Thomas, Elaine (David) Meincke and Judy (Garry) Jennings; grandchildren, Thomas, Catrina (Dylan) and Nicolette Saraf, Alison (Richard) VanHorn, Matthew and Andrew Meincke, Steven (Lindsay), Summer and Spencer Saraf and Laura, Brian (Patrice) and Kevin (Lauren) Jennings and great grandchildren, Fredrick, Ian, Macy, Madison, Zachary, Ethan and Emily.
Funeral services will be private. Memorials may be made to The Martin-Linsin Residence at Hospice of Orleans, Inc., 14084 Rt. 31 West, PO Box 489, Albion, NY 14411. Condolences may be offered to the family at www.langefuneralhomeinc.com.