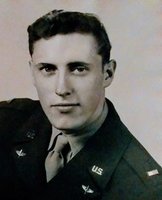 Colonel Clayton R. Roberts USAF (Ret)
Colonel Clayton R. Roberts USAF (Ret) of Norwich, CT went to be with the Lord September 26, 2017. Born in Gasport, NY on October 1, 1922, he was the son of the late William and Lillian Roberts. Clayton grew up in Lockport and graduated from Lockport High School, class of 1940. He was a 1960 graduate of Sacramento State College. Following the bombing of Pearl Harbor Clayton enlisted in the Army Air Corp for pilot training. He was commissioned as a pilot in May 1944 and proudly served in WWII, Korean War and Cold War as a heavy bomber Aircraft Commander flying B24 and B29 aircraft. In August of 1965, he retired with the rank of Colonel in the United States Air Force and from 1966 to 1970 served as the intelligence officer at the Army Nuclear Weapons Storage Facility in Savanna, Illinois. From 1970 until his retirement in January 1992, Clayton served as the Director of Security and Safety at Supervisor of Shipbuilding, United States Navy, Electric Boat Division in Groton, CT. monitoring compliance with terms of classified government submarine contracts. In his retirement he chaired the Norwich Public School Technology Committee and was President of Woodshire Estates Corporation in Bolton Landing, New York. Flying was his first love and serving his country was an honor he would do all over again if only able. When reminded that he was one of the greatest generation he would always reply, "I believe my parents were the greatest generation for they raised me".
He is survived by his two nieces Susan Jones (Hagenbach) of CT and Molly Jones Ulrich (Jerry) of Lockport, NY; Great niece, Lindsy Yeager and her children, Madelyn and Cole and great nephews, Bret, Gregory and Scott Jones of California. He was predeceased by his brother Nelson Roberts, sister Loraine Jones, his twin brother Carlton Roberts and nephew Roger Jones.
Private services will be held at the convenience of the family. In the spirit of Colonel Roberts' dedication and support of his two favorite charities, donations in his memory may be made to Paralyzed Veterans of America, 801 Eighteenth Street NW, Washington, DC 20006 or American Bible Society, 101 North Independence Mall East FL8, Philadelphia, PA, 19106-2155. Condolences may be offered to the family at www.langefuneralhomeinc.com