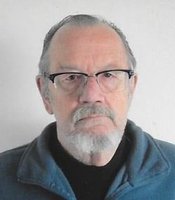 George A. Speidel
George A. Speidel of Lockport, NY passed away on Monday April 9, 2018 at Eastern Niagara Hospital. Born on September 17, 1936 in Buffalo, he was the son of George and Ruth Wagner Speidel. George served in the Air Force and the Air National Guard from 1954 until 1996 and was active duty during the Vietnam War. A retired Foremen at the Tonawanda Engine Plant, George was a member of Harmony Masonic Lodge #699 and American Legion B. Leo Dolan Post #410.
George is survived by his wife of 43 years, Penny Speidel; children, George P. (Debra), John P.(Michelle) and Amy M. (Ken) Owczarzak; seven grandchildren, Gregory (Kristina), Jeremy (Tara), Jessica (Brooke) Warner, Dan Folck and Dylan, Jonathan and Jacob Owczarzak; eight great grandchildren and several nieces and nephews.
Family and friends are invited to a Memorial Service on Thursday at 10:00 AM at LANGE FUNERAL HOME, INC., 186 East Ave., Lockport. In lieu of flowers, memorials may be made to Roswell Park Cancer Center or American Heart Association. Condolences may be offered to the family at www.langefuneralhomeinc.com.