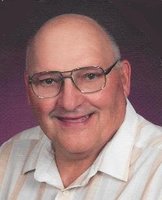 Howard R. Lorish
Howard R. Lorish of Lockport, NY passed away on Wednesday May 23, 2018 at home. Born on December 13, 1935 in Buffalo, he was the son of Howard R. Sr. and Isabell Shaffer Lorish. He was a Steam Fitter at Johnson Controls. Howard had a work ethic as a steamfitter, inventor and consultant that cannot be matched. He is seen by many as an icon and legend in his field. Howard was passionate about his church, hunting and camping. His faithfulness to God, wife, family and friends is evident by everyone's heart he touched. His parting words were always, "See ya at the pass".
Husband of Betty Schmahl Lorish; father of Kate (Glenn Lawrence) Lorish and Diane Schwaibold; grandfather of Justin (Rebekah) Tate and Megan and Shelby Schwaibold; great grandfather of Isabel Rose and Alexander Tate; brother of Isabell "Pudge" Behm and the late William, Edward and Betty Lorish. Also survived by beloved cousins, nieces, nephews and friends.
Friends may call on Tuesday 1-3 & 6-8 PM at LANGE FUNERAL HOME, INC., 186 East Ave., Lockport. Funeral services will be held on Wednesday at 11:00 AM at First English Lutheran Church, 185 Locust St., Lockport. Memorials may be made to Roswell Cancer Institute or Niagara Hospice, Inc. Condolences may be offered to the family at www.langefuneralhomeinc.com.