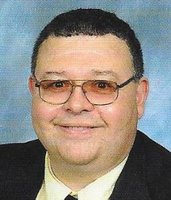 Joseph C. Groff
Joseph C. Groff of Lockport, NY passed away on Friday May 3, 2019 in Buffalo General Hospital. Born on October 23, 1949 in Lockport, he was the son of George C. Groff and Shirley Groff Duvall. Joe was a graduate of the University of Nebraska and proudly served in the US Navy. He taught social studies in a Catholic school in Nebraska and had worked for Oscar Mayer and Mattel. Joe was an active member of First English Lutheran Church as a reader and member of the choir.
Predeceased by his parents, George Groff and Shirley Duvall and his sister, Judith Carol Groff, Joe is survived by two aunts and an uncle, Claudette and Gordon Moran and Oriette Bonham and several cousins.
Services will be private. Memorials may be made to First English Lutheran Church, 185 Locust St., Lockport, NY 14094.