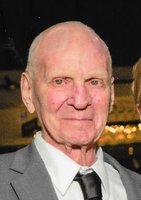 Clifford E. Page
Clifford E. Page of Lockport, NY passed away on Friday May 24, 2019 in Niagara Hospice House. Born on September 10, 1926 in Wellsville, NY, he was the son of Clifford E. and Greta Trowbridge Page. He and the former, Edna Emendorfer were
Married on July 18, 1959. They would have celebrated 60 years in July. Mr. Page worked as a press operator at Norton Laboratories and did maintenance at St. John's and the Bewley Building.
Husband of Edna I Page; father of Connie Jackson, Steven Page, Jacqueline Page and Debra Page; grandfather of Lindsay (Christopher) Janik, Ryan (Mallorie) Schwab, Jim Remick, Tracy Remick, great grandchildren; great great grandchidren and uncle of several nieces and nephews.
Friends may call on Wednesday May 29th 12:00 – 2:00 PM followed by a funeral service at 2:00 PM. Interment in Cold Springs Cemetery. Memorials may be made to Niagara Hospice, Inc. Condolences may be offered to the family at langefuneralhomeinc.com.