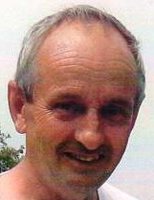 Gerald Allan "Jerry" Colopy
Gerald "Jerry" Allan Colopy, 71, husband of Odie Agar-Colopy, passed away Sunday July 8, 2018.He was the son of the late Emerson and Ruth Marshall Colopy, born on June 9, 1947 in Lockport, NY. Mr. Colopy worked for the City of Lexington and part time at Keeneland. He was a veteran of the United States Army, having served in the Vietnam War.
In addition to his wife, he is survived by son, Chris Colopy; daughter, Dyan (Rey) Malanog; sisters in law, Greta Colopy and Rosita Colopy; grandchildren, IB and IC Malanog and two nieces and two nephews. Predeceased by brothers, Robert and Donald Colopy.
Family and friends are invited to a memorial service on Sunday August 4, 2019 at 10:30 AM at LANGE FUNERAL HOME, INC., 186 East Ave. Condolences may be offered to the family at langefuneralhomeinc.com.